"Now whenever Lauren asks for something, I can buy it for her."
I was in the gas station having a conversation with the attendant -- a friend of mine who is a single mom. Although financially she doesn't need to, she works a day-shift job and a night-shift job. That means for the few hours she is home, she sleeps.
I felt a need to bring her to reality.
"What Lauren really needs," I told her, "Is a mom."
" I know, I know..." she admitted.
Lately I have been in other conversations like this one with friends who are seeking success or recognition, or perhaps an escape from LIFE, and in the meantime leave their families behind.
One just lost custody of her child because of drug use. One got divorced this year and was so casual about it ("we still get along; it's just better for us to be in separate places"). Now facing the tough reality of "single-mom" hood, she warns me, "don't ever get a divorce!".
Many of my friends have sought employment in order to get out of the home or to have more THINGS in their home. Some have devoted themselves to full-time school and placed their children in preschool or with a nanny so they can put their focus elsewhere.
Now, don't get me wrong here. I am not of the mindset that moms have to stay at home and not do anything for themselves. Hey, I'm a working mom myself! I know too well that employment or school outside the home and any other diversion from mouth feeding and diaper changing benefits the mom as well the whole family. I also know that for many households there is a need for two-incomes.
What I have found disturbing is the seemingly growing desire amongst friends of mine who sacrifice their families for something for themselves. They chase after a goal, a job, more money for more STUFF, a break from life, and in their dust their family is suffering.
I am also aware that as a working mom, there are onlookers who think to themselves, "Hey, if she can do it, I can do it."
Should there be a reader here with such a thought, I want to clarify, it is not easy. I absolutely love what I do, but it is difficult to not be able to give my children what I feel they need -- more mom time, more focus on them.
The following quote has been an inspirational reminder to me of where my priorities should be. I have created this bumper sticker to place on my vehicle. Click on the link below to purchase one for yourself to remind you and any other person who may see it just how important the family is: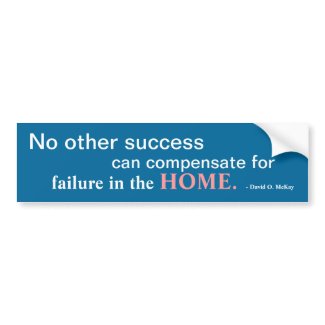 No Other Success can Compensate by 5RealMoms
Buy a bumper sticker here... Better yet, buy a bunch and give them out to your friends. 😉
If you liked this post, you might also like: